Whilst we have specialised in onsite face-to-face training for the last twenty years, we now provide webinar-based training via Zoom or MS Teams. This has further expanded our services to the international sector. We are also able to provide training as a open-course format for individuals or organisations that only have a small number of staff. Whether you need onsite training or would like to enjoy the benefits of a webinar, you will receive the highest quality training that is bespoke-designed to meet your needs and delivered by experts.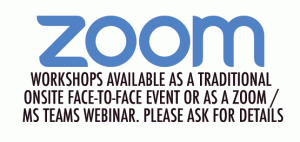 Mental health training – bespoke-designed to meet your needs.
This workshop is always constructed carefully and delivered in a professional and stimulating style. We are aware that mental health awareness is concept that can be interpreted in different ways. For that reason we can provide a general course that addresses all areas of general psychiatry allowing for delegates to explore specific areas that arise during the day. Alternatively, we can design the course to meet your exact specification prior to the event.
Mental Disorder is a complex area of study and can be a challenging topic. Yet psychiatric disorder is prevalent in society and most individuals or their families have some experience of mental health problems, either directly or through friendships.
Individuals working in local government, housing, social work / social care, charity settings or other vocational work will commonly meet and support individuals with psychiatric disorder whether they realise it or not. Signs and symptoms of psychiatric disorder may manifest in unusual thought patterns, emotional vulnerabilities and / or behaviours that may challenge staffs' personal resources. This training supports staff to better-understand the world of psychiatric illness, recognise and contextualise patterns of behaviour and to fine-tune skills to improve outcomes for all. This training does not stigmatise or use any inappropriate language. This is a welcoming and articulate training course that embraces life's experiences and our common vulnerabilities.
Generally, this workshop addresses the following presentations (bespoke workshops are always available):
The psychology associated with common mental health problems;
Recognising diagnosis and signposting individuals vulnerable to mental ill health,
Mood Disorders – Major Depression & Bipolar Disorder,
Schizophrenia and Psychosis;
Anxiety Disorders – Including Obsessive Compulsive Disorder, Generalised Anxiety Disorder, Panic Disorder and Agoraphobia, Specific Phobias, PTSD, Social Phobias;
Eating Disorders;
Personality Disorder with a key focus on Emotionally Unstable Personality Disorder / Borderline Personality Disorder;
Self Injurious Behaviour and suicidality;
Dementias;
Substance Misuse;
Pharmaceuticals and psychological interventions;
Differential Diagnosis, Comorbidity & the NICE Guidelines.
Here's an example overview of a typical training workshop (10 bullet points):
1 - An overview of mental disorder and the field of psychological health problems;
2 - Video examples and client histories;
3- Understanding Stress and its relationship with mental disorder;
4 - Supporting, signposting and empathic interactions / counselling strategies;
5 - Understanding, recognising and managing mental health emergencies;
6 - Understand and managing self-harm and suicide;
7 - NHS interventions, treatments and supporting people thorough treatment;
8 - Risk assessment practices;
9 - The principles of pharmaceutical and cognitive-behavioural treatments;
11 - Delivered by a psychiatry-qualified consultant.
You can download an overview of this training here. This is the best place to start: Mental Health Awareness Training Overview
Training facilitator:
This training is delivered by Psychiatry qualified consultants that specialise in general psychiatric illness and abnormal psychology, personality disorder and stress-related illness. We provide a wide range of training including cognitive behavioural therapy and work with the NHS, social care organisations and social housing providers every day of the week. We offer a wide-ranging, multi-disciplinary knowledge and set of skills which are particularly useful to organisations in the private sector that may have limited access to support for psychopathology.
The workshop typically starts at 9.15am for 9.30 and finishes at 4.15pm.  15 participants per event
We offer a dedicated training course for organisations working in the social housing sector. An overview of this training can be downloaded here: Mental Health Training – Social Housing (advanced)