We provide bespoke training for managers, organisation and staff that could benefit from guidance and consultancy. This is avaialble a stress awareness / management workshop or a resilience workshop dedicated to the needs of the workplace.
This workshop is delivered in an enjoyable and accessible format by a psychology / psychiatry qualified expert. It not only supports organisations and individuals to be aware of stress and its associated mental health problems, it provides practical strategies, both cognitive and behavioural to mitigate stress and to improve psychological and physical resilience.
This workshop provides a mix of knowledge, risk assessment approaches and practical skills. It also blends aspects of the cognitive behavioural therapy into an easy-to-understand model that supports and coaches staff to manage their psychological / emotional health and to reduce self-defeating behaviours. The workshop also supports staff to express concerns / improve communications with management rather than allowing unproductive resentment or complex group-dynamics to develop. The workshop will not require role-play and post-training reading is available. Please contact us directly for information about staff training.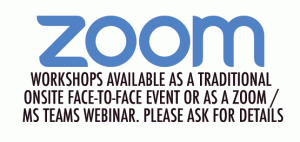 Here's an example overview of a typical training workshop (10 bullet points)
1 - Stress is a symptom, not a mental health diagnosis and it impacts on an organisational health & safety responsibilities rather than reasonable adjustments under the Equality Act. That said, stress is a health and safety concern and it has a close relationship with mental health conditions and relapse. This workshop lifts the lid on a complex field and supports managers and organisations to better-understand a complex field full of myths and misunderstanding;
2 - This training will support managers and staff to understand the common causes of workplace stress, to improve manager / staff interactions and to effectively manage the early signs of stress to pre-manage the potential escalation of mental health issues.
3 - Stress risk assessments and management practices are a key aspect of this training;
4 - A focus on the legal aspects in relation to workplace stress and psychiatric injury with relevant caselaw considered;
5 - Improved interactional and leadership styles with and appropriate signposting will be carefully addressed within this training. Managers will be equipped with a useful set of communication skills, to increase confidence and minimise the typical potential counter-productive work behaviours that can manifest as a consequence of poor leadership styles and invalidating practices;
6 - Improving systems and documentation to challenge absences associated with stress /mental health claims in the event that they escalate to claims against the organisation. 
7 - The training will support managers to better recognise the signs and symptoms of the common mental conditions that present in the workplace. Training will be given to support managers to better identify mental health conditions; to understand their consequences to the individual, and understand best practice in interactional support;
8 - This training is delivered by a psychology / psychiatry qualified consultant and free post-training support is available on an informal basis;
9 - Partners within our organisation work in the NHS as qualified Doctors and within the legal profession as qualified lawyers. This training offers an in-depth and evidence-based training opportunity for industry;
10 - This one-day workshop will support managers and to better understand stress and mental disorder in the workplace. It provides a clear approach to understanding a complex area of human psychology and psychiatry, and delivers information in a jargon-free and accessible style.
An overview of this workshop can be downloaded here (this is the best place to start): Stress First Aid overview
You may find this alternative workshop more appropriate to your learning needs? Mental Health Training for managers. 2018